We promise 100% original brand new with 1-year warranty.
If you are interested in our products, please feel free to contact us!
-----------------------------------------------------------
HONGKONG XIEYUAN TECH CO., LIMITED
Add: 7-A16,Caishen Commercial Plaza,Hankou Railway Station,Wuhan, China
Contact: Ms. Lily
Email: lily@hkxytech.com
WhatsApp/Skype: +86 13789949182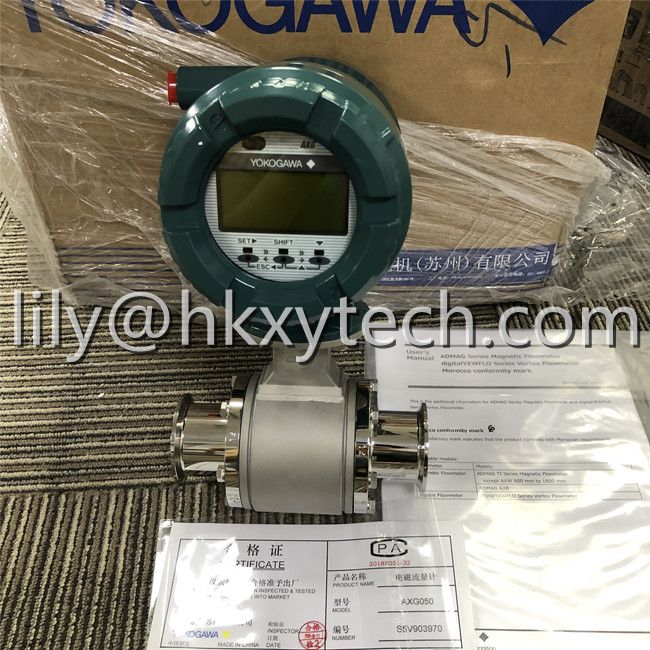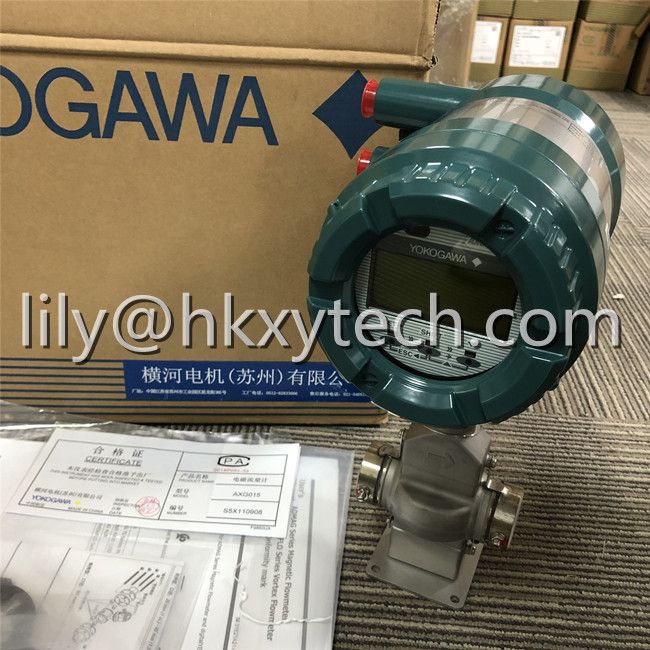 The ADMAG Total Insight(TI) series ADMAG AXG adopts the "Total Insight" concept and totally support the product life cycle.
The ADMAG Total Insight series AXG electromagnetic flowmeter is a high-quality and highly reliable product developed based on years of experience and achievement, such as enhancement of application by our proprietary dual frequency excitation method.
The AXG is ideal for industrial process lines like oil & gas/chemical/pulp & paper/food & beverage/metal & mining applications. With outstanding reliability and ease of operation and maintenance, developed on decades of field-proven experience, the AXG will increase your benefits while reducing total cost of ownership.
FEATURES
Stable Measurement
Our own dual frequency excitation method realizes
stable fl ow measurement even under high fl ow noise
in the fl uid with highly concentrated slurry.
Multiple Inputs and Outputs
Maximum four inputs/outputs of current, pulse, and
status signals can be selected. Mass or calorie
calculation using temperature input is available.
Improved Operation and Monitoring
Function
Operation authority level setting for ensuring safety,
process data trend display, display backlight fl ashing
(Squawk) function, and data store / restore function
with display unit internal memory or microSD card
are available.
Improved Maintainability
Diagnostic functions that contribute to preventive
maintenance of the plant are installed. Diagnosis
of the device (verifi cation function) that can be
executed without demounting from piping, detection
of the process condition by monitoring the fl ow
noise and electric conductivity of the fl uid, electrode
insulation deterioration diagnosis, electrode adhesion
diagnosis, and wiring connection diagnosis are
available.
Communication Protocol
HART, BRAIN, Modbus, FOUNDATION Fieldbus, PROFIBUS PA
Model codes:
AXG015-GA000AA1AP212B-IJ211-GRP-SCT
AXG015-GA000AA1AP212B-IJ211-GRP-SCT
AXG100-GD000BA1AH222B-NNNNN/GRH/SCT/L2
AXG050-CANF2BA1AL214B-2JA12/CH/GRL
AXG050-CANF2BA1AL214B-1JA12/CH/GRL
AXG150-CANF2AA1AL214B-1JA12/CH/GRL
AXG025-GA000AA1AL112B-1JA11
AXG100-GA000PA1AL212B-1P013/GRL/SCT/L2/T01

AXG300-GD000BA1AH222B-NNNNN/GRH/SCT/L2
AXG100-CGKJ2CA1AL212B-NNNNN/GRL +AXG4A-GKJ2122JA21/SB + AXO1C-CO20

AXG150-GA000BA1AL212B-1DA12/CH/GRL
AXG150-GA000BA1AL212B-2DA12/GRL/CH

AXG080-GG000CA1AT212B-NNNNN/CH/GRH
AXG050-GA000AA1AL212B-1JA21/GRN
AXG010-CAKF2BA1-AP114B-1JA12/SCT/L3/M01

AXG050-GA000CE2HL114B-1JA12G3
AXG025-CAFF2PA1AT222B2J11

AXG032-GA000BA1AL212B-1F012/GRL/CH

AXG350-GA000CA1AL112B-1DA12/L4/CH
AXG025-C-A-FF2-PA1-A-T-2-2-2-B-2-J#-1-1/ELC/MC/GRN/GA
AXG200GG000CA1AH214B-NNNNN/GRL
AXG025-GA000BA1AL112B-1JA11/MC
AXG080-GG000AA2CE212B-NNNNN/GRN
AXG150-GA000BA1AL112B-1DA12/L4
AXG010-GA000BA1AL210B-1DA12/GRL/CH

AXG015-GA000BA1AL210B-1DA12/GRL/CH
AXG080-G-G-000-AA1-C-E-2-2-O-C-N-NN-1-N/SCT/BSC

AXG4A-G-000-2-4-1-JA-1-1
AXG050-GG000BJ1AH110B-NNNNN
AXG100-GA00OBA1AT212B-2JA12/GRV/ELC/CH

AXG015-GA00OBA1AT212B-2JA12/GRT/ELC/CH
AXG100-GA0OOBA1AH212B-2JA12/GRH/ELC/CH
AXG040-GG000BJ1AL110B-NNNNN
AXG150-GG000CJ1AL110B-NNNNN

AXG050-HA000JDBAL112B-2J#11
AXG010-CAKF2BA1-AP114B-1JA12/SCT/L3/M01

AXG050-GA000BE4AP214B-2JB21/SCT/GRP
AXG100-GD000BA1AH222B-NNNNN/GRH/SCT/L2

AXG040-HA00OHABAL110B-1JA11/3A
AXG050-GG00OBA1AL222B-NNNNN/GRL/SCT/L4/T01

AXG4A-G000221JB11/SCT/MC/L4
AXG010-CAKF2BA1-AP114B-1JA12/SCT/L3/M01
AXG4A-G000121DA11+AX01C-C010
AXG250-GG000CA1AL212B-NNNNN/GRL+AXG4A-G000121DA11+AX01C-C010
AXG200-GG00OAA1AL212B-NNNNN/GRL
AXG250-GG00OCA1AL212B-NNNNN/GRL
AXG4A-G000121DA11
AXG4A-G000121JA11
AXG200-GG000CA1AL212B-NNNNN/GRL

AXG010-CAKF2BA1AP114B-1JA12/MU/SCT/M01

AXG150-CGKF2AA2AH214B-NNNNN/GRH/CH
AXG4A-CKF2141JA11/CH
AXG250-GA00OPA2AL114B-2JA11V51

AXG050-CAKF2PA1AT222B-1JB11/GRT/EC
AXG025-CGKF2PA1AT222BNNNNN/GRT/EC+AXG4A-CKF2221JB21/SB/EC+AXO1C-CO05

AXG015-GA000AA1AP212B-IJ211-GRP-SCT

AXG015-GA000AA1AP212B-IJ211-GRP-SCT

AXG100-CAKF2AA1CE212B-1JA11/SCT/EC/GRN/GD

AXG200-GA000CA1AL212B-1JA11/GRL

AXG350-GA000BA1AL212B-1JA11/GRL

AXG350-GA000BA1AL212B- 1JA11/GRL

AXG150-GA000BA1AL212B- 1JA11/GRL

AXG100-GA000BA1 AL212B- 1JA11/GRL

AXG350-GA000BA1AL212B- 1JA11/GRL

AXG4A-G000121JA12/CH

AXG080-GG000CA1AT212B-NNNNN/CH/GRH

AXG050-HA000HABAL110B-1JA11/3A

AXG100-GA000BJ1AL212B-1JE11/GRL/SCT

AXG300-GA000BJ1AL212B-1JE11/GRL/SCT

AXG150-GA000BJ1AL212B- 1JE11/GRL/SCT

AXG040-HA000HABAL110B-1JA11/3A

AXG050-GA000BJ1AL212B-1JE11/GRL/SCT

AXG010-GA000BJ1AL212B-1JE11/GRL/SCT

AXG125-GA000BJ1AL212B-1JE11/GRL/SCT

AXG040-GA000BJ1AL212B-1JE11/GRL/SCT

-----------------------------------------------------------
HONGKONG XIEYUAN TECH CO., LIMITED
Add: 7-A16,Caishen Commercial Plaza,Hankou Railway Station,Wuhan, China
Contact: Ms. Lily
Email: lily@hkxytech.com
WhatsApp/Skype: +86 13789949182