Fluke 754 Documenting Process Calibrator-HART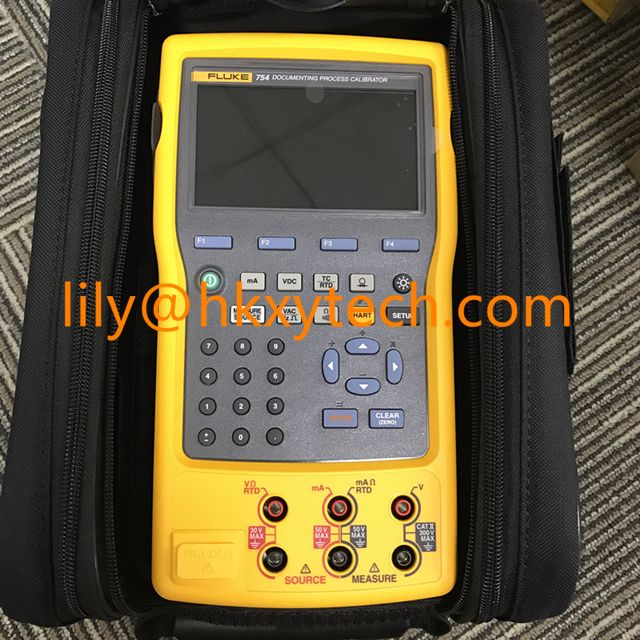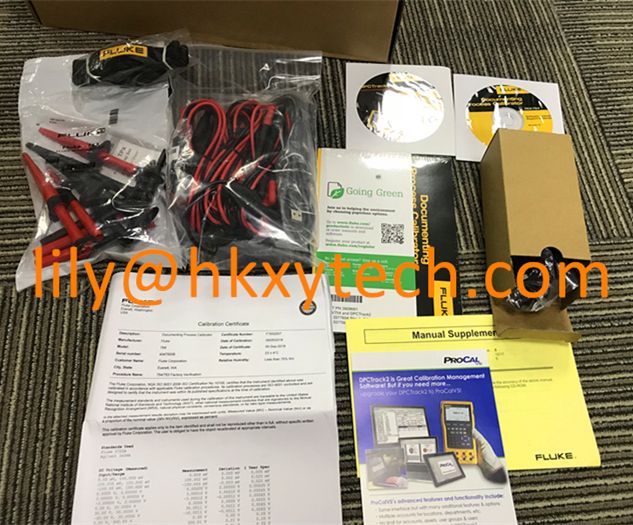 Key features
Full-featured documenting process calibrator with HART communication for calibrating and troubleshooting HART instrumentation.

Measures volts, mA,TDs, thermocouples, frequency, and ohms to test sensors, transmitters and more

Sources/simulates volts, mA, thermocouples, RTDs, frequency, ohms, and pressure to calibrate transmitters

Powers transmitters during test using loop supply with simultaneous mA measurement
Product overview:
Fluke 754 Documenting Process Calibrator-HART
Fluke 754 Documenting Process Calibrator with HART communication does the work of many tools
Whether you're calibrating instruments, troubleshooting a problem, or running routine maintenance, the Fluke 754 with HART® communication can help you get the job done faster. It does so many different tasks, so quickly and so well, it's the only process calibrator you need to carry. This rugged, reliable integrated communicating calibrator is ideal for calibrating, maintaining, and troubleshooting HART and other instrumentation.
The 754 is a power multifunction documenting calibrator that you can use to download procedures, lists, and instructions created with software; or upload data for printing, archiving, and analysis. The powerful built-in HART interface is capable of performing nearly all the day-to-day tasks you now perform with a separate communicator.
In fact, the 754 does the work of several tools. It sources, simulates and measures pressure, temperature, and electrical signals with one rugged, hand-held device. For documentation, the 754 automates calibration procedures and captures your data. And, of course, it helps you meet rigorous standards like ISO 9000, FDA, EPA and OSHA regulations. Plus, the new improved graphical screen, Li-Ion battery for longer life, USB port, and accessories help you work smarter and faster.
To create a seamless/paperless calibration management system consider adding Fluke DPCTrack2 Calibration Management software for use with your Fluke 753 and 754 or even legacy Fluke 743 and 744 calibrators.
Other useful features:
Handles fast pulsed RTD transmitters and PLCs, with pulses as short as 1 ms

Measures/sources pressure using any of 29 Fluke 700Pxx Pressure Modules

Creates and runs automated as-found/as-left procedures to satisfy quality programs or regulations, and records and documents results

Holds up to a full week of downloaded procedures and calibration results

Uses many features like autostep, custom units, user-entered values during test, one-point and two-point switch testing, square root DP flow testing, programmable measurement delay and more

Provides easy-to-use multi-lingual interface

Features a bright white dual display for reading both sourced and measured parameters simultaneously

Includes rechargeable Li-Ion battery for 10 hour uninterrupted use

Comes with three-year warranty and DPC/Track Sample software

Offers compatibility with many asset management software packages
Models: Fluke 754 Documenting Process Calibrator-HART
Includes:
BC7240 battery charger

Li-on BP7240 battery pack

DPCTrack 2™ Sample Software

Instruction manual

NIST-traceable calibration report and data

Three sets of TP220 test probes with three sets of "extended tooth" alligator clips

Two sets AC280 hook clips

C799 Soft Field Case

USB communication cable, Fluke 754HHC HART communications cable
Calibration tools
Fluke 789 ProcessMeter
Fluke 710 mA Loop Valve Tester
Fluke 773 Milliamp Process Clamp Meter
Fluke 787B ProcessMeter
Fluke 709H mA loop calibrator
Fluke 773 Milliamp Process Clamp Meter
Fluke 709 mA loop calibrator
Fluke 772 milliamp process clamp meter
Fluke 771 milliamp clamp meter
Fluke 715 Volt/ mA Calibrator
Fluke 707Ex is an intrinsically safe loop calibrator
Fluke 705 loop calibrator
Fluke 754 Documenting Process Calibrator-HART
Fluke 726 Precision Multifunction Process Calibrator
Fluke 725Ex Series Process Calibrator
Fluke 753 Documenting Process Calibrator
Fluke 719 Pressure Calibrator
Fluke 719Pro Electric Pressure Calibrator
Fluke 707 Current Loop Calibrator with Quick Click Knob
Fluke 725 Multifunction Process Calibrator
Fluke 750P Series Pressure Modules
Fluke 154 HART Communicator
Fluke 729 Automatic Pressure Calibrator
Fluke 721 Pressure Calibration Instruments
Fluke 700G Pressure Gauge Calibrator
Fluke 718 Pressure Calibrator
Fluke 718Ex Intrinsically Safe Pressure Calibrator
Fluke 719 Pressure Calibrator
Fluke 750P Series Pressure Modules
Fluke 717 Pressure Calibrator
If you are interested in our products, please feel free to contact us!
-----------------------------------------------------------
HONGKONG XIEYUAN TECH CO., LIMITED
Add: 7-A16,Caishen Commercial Plaza,Hankou Railway Station,Wuhan, China
Contact: Ms. Lily
M: +86 13789949182
WhatsApp/Skype: +86 13789949182
Email: lily@hkxytech.com