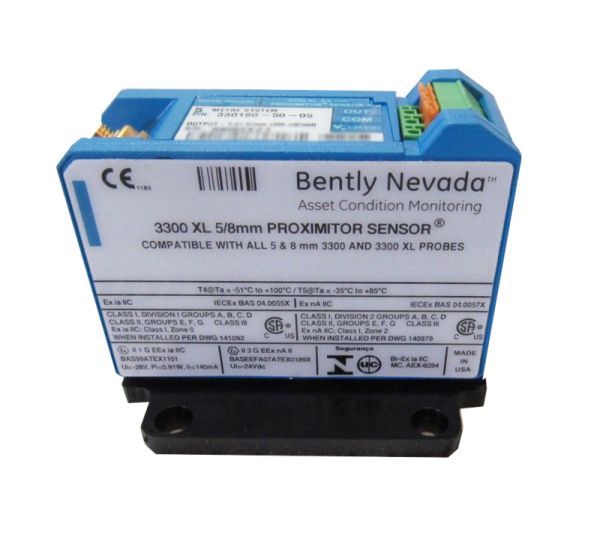 Bently Nevada 3300 XL Series Proximitor System
Bently Nevada 3300 XL Proximitor Sensor 330180-50-05
Manufacturer : Bently Nevada
Product No : 330180-50-05
Product type : 3300 XL Proximitor Sensor
Total Length and Mounting Option : 50 = 5.0 metre (16.4 feet) system length, panel mount
Agency Approval Option : 0 5 = CSA, ATEX, IECEx approvals
Proximitor Sensor Input : Accepts one non-contacting 3300-series 5 mm, 3300 8 mm or 3300 XL 8 mm Proximity Probe and Extension Cable.
Power : Requires -17.5 Vdc to -26 Vdc without barriers at 12 mA maximum consumption, -23 Vdc to -26 Vdc with barriers. Operation at a more positive voltage than -23.5 Vdc can result in reduced linear range.
Supply Sensitivity : Less than 2 mV change in output voltage per volt change in input voltage
Proximitor Sensor Material : A308 aluminum
Connector Material : Gold-plated brass or gold-plated beryllium copper
System Length : 5 or 9 metres (including extension cable) or 1 metre (probe only).
Dimensions (HxWxD), approx. : 6.35cm x 6.1cm x8.13cm
Shipping Weight : 1 Kg
If you are interested in our products, please feel free to contact us!
-----------------------------------------------------------
HONGKONG XIEYUAN TECH CO., LIMITED
Add: 7-A16,Caishen Commercial Plaza,Hankou Railway Station,Wuhan, China
Contact: Ms. Lily
M: +86 13789949182
WhatsApp/Skype: +86 13789949182
Email: lily@hkxytech.com