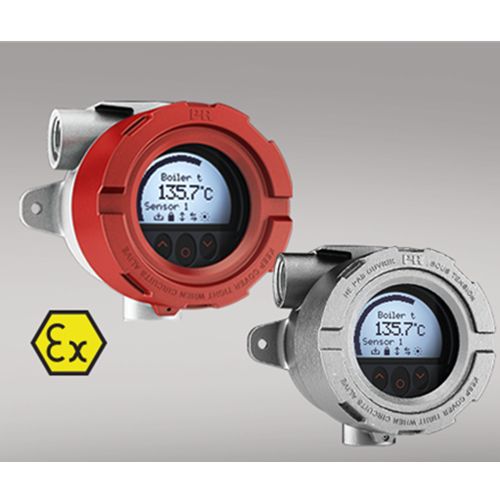 7501 Field mounted HART temperature transmitter
RTD, TC, Ohm, and bipolar mV input and analog output
High definition local operator interface (LOI) with 3 optical buttons

Selectable red or white backlight

Ex d explosion proof / flame proof in aluminum or 316 stainless steel version

HART 7 functionality with HART 5 compatibility
High defintion display
0, 90, 180, & 270 degree position adjustments.

Monitoring, programming and diagnostics view.

Extensive diagnostics with flashing red or white backlight

Supports 7 languages.



Local operator interface (LOI)
3 optical buttons; up, down and enter.

Dynamically adaptive to wear or accumulation of dirt.

Immune to interference from ambient light sources.

Useable with or without gloves.



Configuration
From the LOI through PR guided menu.

PReset and HART modem.

HHC, DCS or AMS via HART.



Mounting / installation
For installation in zone 0, 1, 2 and zone 20, 21, 22 and in Class 1, Division 1 and 2 applications.

Hardware assessed for use in SIL applications.

Mounting on 1.5"–2" pipe bracket or on wall / bulkhead.



Application
Linearized temperature measurement with TC and RTD sensors e.g. Pt100 and Ni100.

HART communication and 4...20 mA analog PV output for individual, difference or average temperature measurement of up to two RTD or TC input sensors.

Conversion of linear resistance to a standard analog current signal, e.g from valves or Ohmic level sensors.

Amplification of bipolar mV signals to standard 4...20 mA current signals.

Up to 63 transmitters (HART 7) can be connected in a multidrop communication setup.
Technical characteristics
NAMUR NE43 and NE89.

HART protocol revision can be changed by user configuration to either HART 5 or HART 7 protocol.
Common specifications
Supply
Supply voltage, DC: Ex ia, intrinsically safe 10 (12 - with backlight)...30 VDC
Supply voltage, DC: Other 10 (12 - with backlight)...35 VDC
Isolation voltage
Isolation voltage, test / working 1.5 kVAC / 50 VAC
Response time
Response time (programmable) 1...60 s
Signal / noise ratio > 60 dB
Programming HART
Start-up time, transmitter to display Max. 5 s
Long-term stability, better than ±0.1% of span / year
Accuracy Better than 0.05% of selected range
Signal dynamics, input 22 bit
Signal dynamics, output 16 bit
EMC immunity influence < ±0.1% of span
Extended EMC immunity: NAMUR NE21, A criterion, burst < ±1% of span
If you are interested in our products, please feel free to contact us!
-----------------------------------------------------------
HONGKONG XIEYUAN TECH CO., LIMITED
Add: 7-A16,Caishen Commercial Plaza,Hankou Railway Station,Wuhan, China
Contact: Ms. Lily
M: +86 13789949182
WhatsApp/Skype: +86 13789949182
Email: lily@hkxytech.com