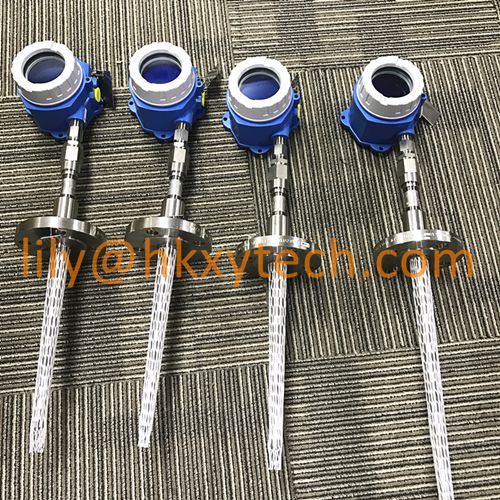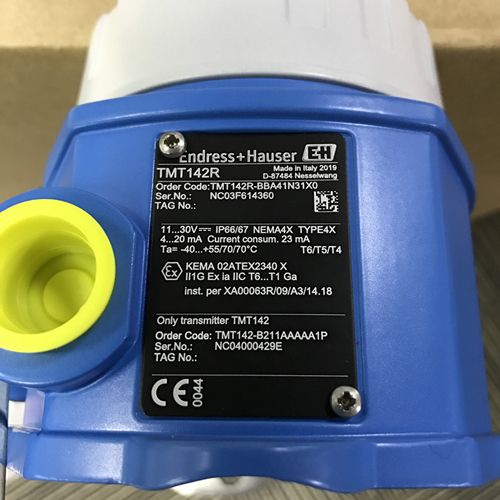 Safe monitoring of process temperatures in challenging applications e. g. in the Oil & Gas industry
The robust thermometer is designed for use in demanding and safety relevant applications e.g. in the Chemical, Oil & Gas and Energy industry. The thermometer fulfills the corresponding safety requirements due to various certificates and tests.
The use of a transmitter leads to higher accuracy and reliability in comparison to directly wired sensors.
Benefits
HART® protocol for operating the device on site using handheld terminal (DXR375) or remotely via the PC

Illuminated display, rotatable


Single Pt100 with 3 or 4 wires connection


Undervoltage detection responds immediately, output of falsified measured values is prevented


Highly accurate in entire operating temperature range


Approvals: ATEX (EEx i.a., EEx d and dust ignition-proof), CSA (IS, NI, XP and DIP)


Output simulation

Field of application
The temperature assembly TMT142R from the Omnigrad S family is a compact resistance thermometer specifically designed to fulfill the requirements of different process industries such as the chemical, petrochemical and energy but even suitable to other general purpose applications.
The thermometer assembly TMT142R consists of a temperature RTD sensor insert (Pt100) and an electronic two-wire temperature transmitter providing a 4 to 20 mA output, configurable via HART® protocol.
Features and specifications
Measuring principle

Resistance Temperature Detector
Characteristic / Application
US style
modular temperature assembly

for heavy duty applications
suitable for hazardous areas
threaded process connection
to use with thermowell
backlit display
Terminal head
TMT142 - aluminium - fieldhousing w. or w/o. display
TMT142 - SS - fieldhousing w. or w/o. display
Thermowell / protection tube
to use with thermowell
Insert / probe
mineral insulated (MI), flexible
Models in stock:
FDU91-RG1AA
FDU91-RG2AA
FMU30-AAHEABGHF
FMU40-ARB2A2
FMU41-ARB2A2
FMU90-R11CA111AA3A
FTL31-AA4U3BAWSJ
FMU30-AAHEAAGGF
CPS11D-7BA21
CPS11D-7BA2G
CPS11D-7AA21
CPS11-2BA2ESA
FTL31-AA4U2AAWBJ
FTL31-AA4M2AAWBJ
FTL31-AA4U2AAW5J
FTW23-AA4MWVJ
FTW23-AA4NWVJ
PMP11-AA1U1PBWJJ
PMP11-AA1U1MJWJJ
PMP11-AA1U1MBWJJ
PMP11-AA1U1QBWJJ
PMP11-AA1U1RBWJJ
PMP11-AA1U1HBWJJ
PMP11-AA1U1PBWBJ
PMP11-AA1U1QBWBJ
PMP21-AA1U1PBWJJ
PMP21-AA1U1MJWJJ
PMP21-AA1U1MBWJJ
PMP21-AA1U1QBWJJ
PMP21-AA1U1RBWJJ
PMP21-AA1U1HBWJJ
PMP21-AA1U1PBWBJ
PMP21-AA1U1QBWBJ
FMU30-AAHEAAGGF
FMU30-AAHEABGHF
FMR10-AAQBMVCEVEE2
FMR10-AAQBMVCEWFE2
FMR10-AAQBMWDEWFE2
FMR10-AAQBMWDEVEE2
FMR10-AAQBMVCEWFE2+R7
FMR10-AAQBMWDEWFE2+R7
If you are interested in our products, please feel free to contact us!
-----------------------------------------------------------
HONGKONG XIEYUAN TECH CO., LIMITED
Add: 7-A16,Caishen Commercial Plaza,Hankou Railway Station,Wuhan, China
Contact: Ms. Lily
M: +86 13789949182
WhatsApp/Skype: +86 13789949182
Email: lily@hkxytech.com