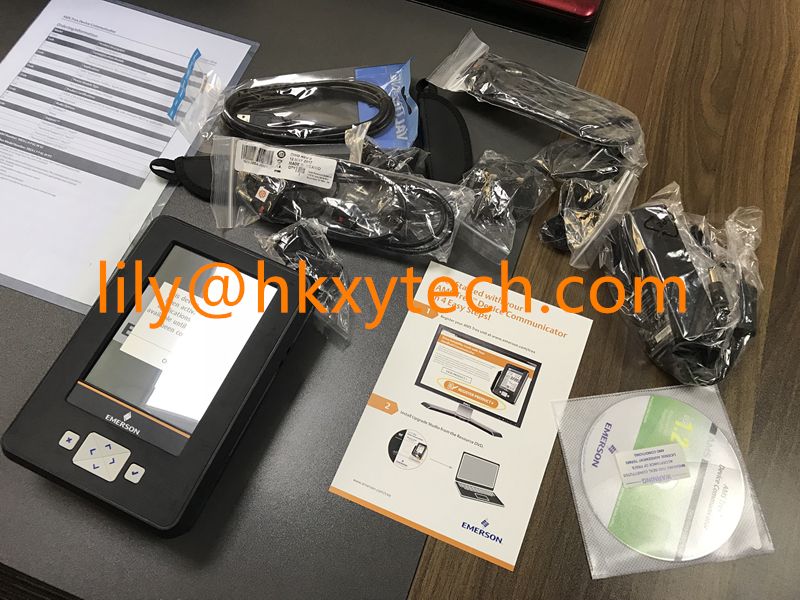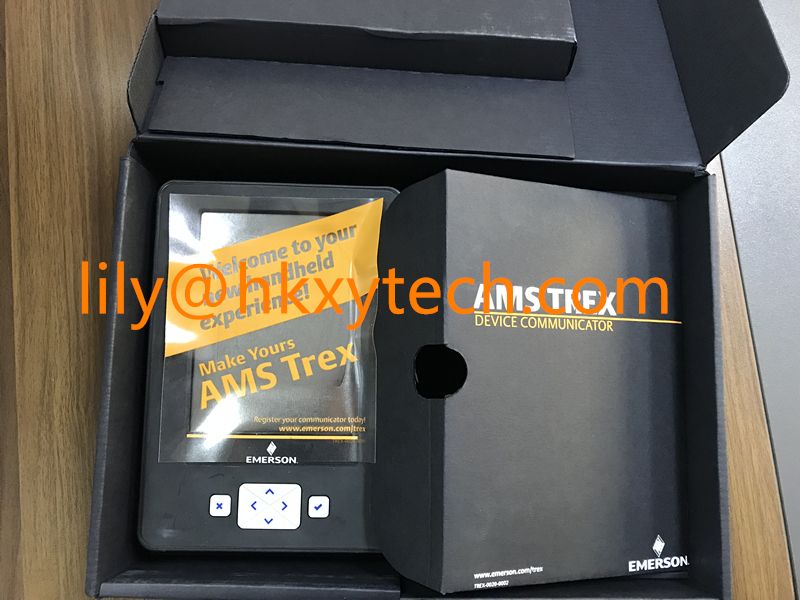 AMS Trex Device Communicator
Increase productivity in the field and solve complex device issues without the need for other specialized tools.
Drive Reliability Goals with Your Handheld Communicator
The AMS Trex Device Communicator delivers a modern user experience in a rugged, intrinsically safe package, providing the experience of consumer devices in a tool built to withstand harsh industrial environments.
The Trex communicator streamlines activities in the field, allowing technicians to isolate and repair problems while devices continue to run. Segment and loop diagnostic tools quickly validate loop and fieldbus segment characteristics for easy troubleshooting. With numerous communication options, your communicator has never been more connected.
Work More Efficiently
Designed for comfortable, one-handed operation in the field, the Trex communicator is packaged in an evenly-balanced form factor with a rugged hand strap so you can easily hold it, even when working in tight spaces. With built-in Bluetooth, USB, and WiFi connectivity, move data to and from the communicator using the connectivity option that is most convenient.
Eliminate the risk of inaccurate data by automatically synchronizing field data with your asset database. With AMS Trex and AMS Device Manager, log and time-stamp field changes as they occur to eliminate manual transcription tasks and maintain the integrity of your asset database.
Specifications
Weight Approximately 2.9 lbs (1330 grams)
Microprocessor 800 MHZ ARM Cortex A8/NXP
Memory Internal Flash 2 GB NAND and 32 GB extended flash
RAM 512 MB DDR3 SDRAM
Display 5.7 in (14.5 cm) color VGA resistive touchscreen
Battery Operating Time 8+ hours of typical use
Operating Temperature -20 to 55°C (-4 to 122°F)
Enclosure Rating IP54
Shock Tested to survive a 1-meter drop test onto concrete
Features
Eliminate the need for specialized tools with power the loop functionality

Quickly resolve field devices issues with advanced diagnostics

Configure and test valves inline

Improve efficiency with a modern, intuitive user interface

Intrinsically safe to go anywhere you go

Automatically synchronize field data with AMS Device Manager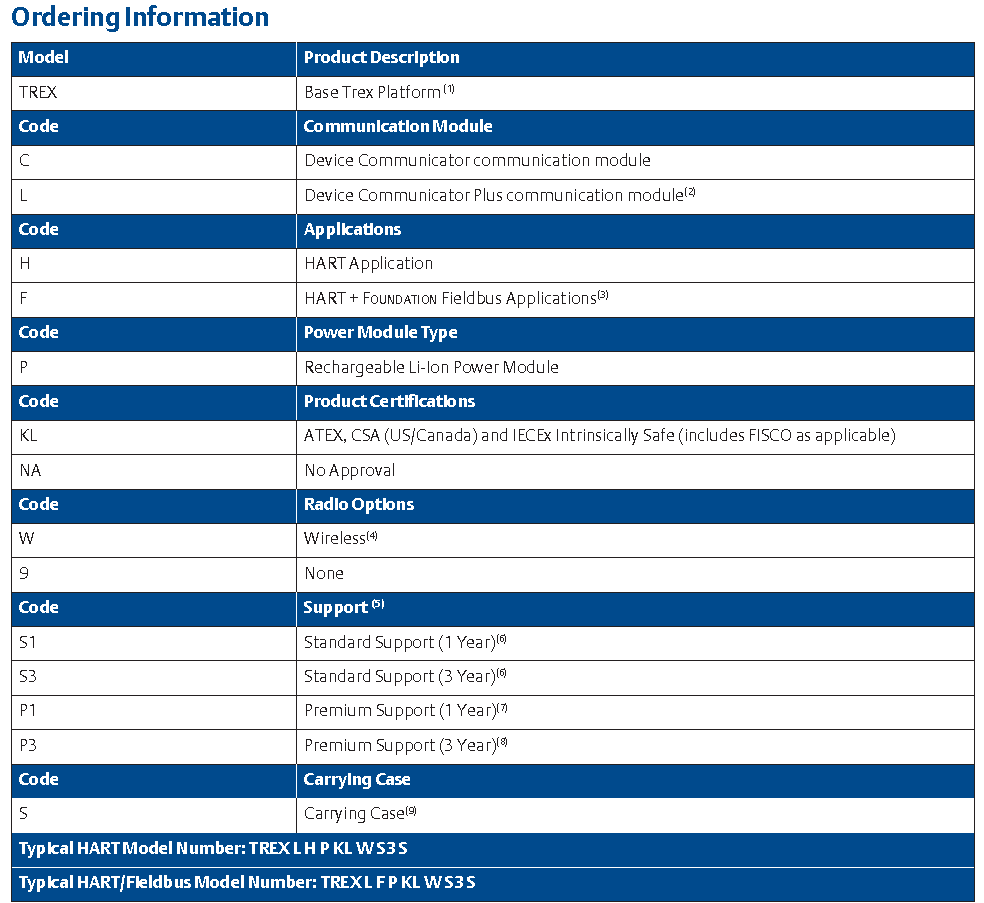 Ordering codes:
TREXCHPNAWS1S
TREXCHPNAWS3S
TREXCHPNAWP1S
TREXCHPNAWP3S
TREXCHPKLWS1S
TREXCHPKLWS3S
TREXCHPKLWP1S
TREXCHPKLWP3S
TREXLHPNAWS1S
TREXLHPNAWS3S
TREXLHPNAWP1S
TREXLHPNAWP3S
TREXLHPKLWS1S
TREXLHPKLWS3S
TREXLHPKLWP1S
TREXLHPKLWP3S
TREXCFPNAWS1S
TREXCFPNAWS3S
TREXCFPNAWP1S
TREXCFPNAWP3S
TREXCFPKLWS1S
TREXCFPKLWS3S
TREXCFPKLWP1S
TREXCFPKLWP3S
TREXLFPNAWS1S
TREXLFPNAWS3S
TREXLFPNAWP1S
TREXLFPNAWP3S
TREXLFPKLWS1S
TREXLFPKLWS3S
TREXLFPKLWP1S
TREXLFPKLWP3S
Spare Parts Information
TREX-0002-1211 Rechargeable Li-Ion Power Module
TREX-0002-3611 Rechargeable Li-Ion Power Module (with 3 years premium coverage)
TREX-0003-0011 AC Adapter (includes US, EU, UK, AU outlet plugs)
TREX-0003-0022 DC Adapter (12v vehicle accessory outlet)
TREX-0003-0002 AC Outlet Plugs (replacement set includes US, EU, UK, AU)
TREX-FFPA-0001 Foundation Fieldbus Power Plug
TREX-0004-0001 Lead Set with connectors
TREX-0005-0002 Hand Strap (replacement set of 2)
TREX-0005-0011 Carrying Case (includes hand & shoulder straps)
TREX-0005-0009 Shoulder Strap (replacement for use with carrying case)
TREX-0005-0004 Magnetic Hanger
TREX-0004-0002 USB cable (USB to micro USB)
TREX-PMDC-1211 Device Communicator communication module
TREX-PMDC-3611 Device Communicator communication module (with 3 years premium coverage)
TREX-PMDP-1211 Device Communicator Plus communication module
REX-PMDP-3611 Device Communicator Plus communication module (with 3 years premium coverage)
TREX-0012-0011 Stand (replacement integral to communication module)(
TREX-0045-0001 Quick Start Guide (Multilingual)
TREX-0049-0001 Resource DVD
If you are interested in our products, please feel free to contact us!
-----------------------------------------------------------
HONGKONG XIEYUAN TECH CO., LIMITED
Add: 7-A16,Caishen Commercial Plaza,Hankou Railway Station,Wuhan, China
Contact: Ms. Lily
M: +86 13789949182
WhatsApp/Skype: +86 13789949182
Email: lily@hkxytech.com