Product News
Emerson Rosemount 3144P Temperature Transmitter 3144PD6A1K1M5C4Q4

July 12, 2021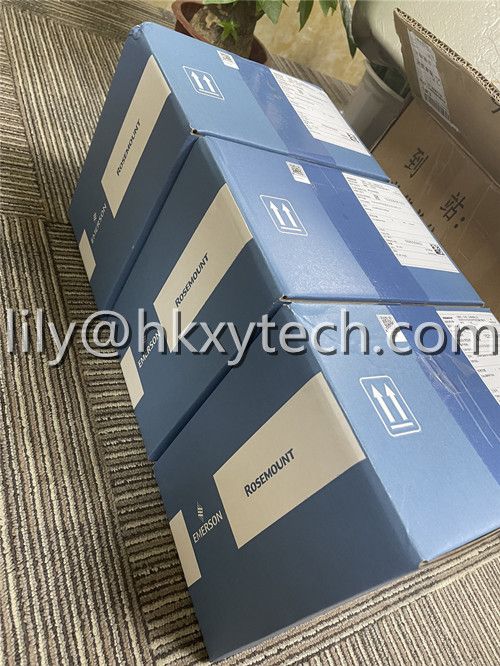 Emerson Rosemount 3144P Series Temperature Transmitter
The Rosemount 3144P Temperature Transmitter provides industry-leading accuracy, stability and reliability for your temperature measurements. It features a dual-compartment housing to ensure reliability and advanced diagnostics to keep your measurement point up and running. When combined with Rosemount X-well™ Technology and the Rosemount 0085 Pipe Clamp sensor, this transmitter can provide accurate measurement of process temperature, eliminating the need for a thermowell or process penetration.
Specifications
Input: Dual and single sensor capability with universal sensor inputs (RTD, T/C, mV, ohms)
Output: Signal4-20 mA /HART® protocol, FOUNDATION™ Fieldbus protocol
Housing: Dual-compartment field mount
Display/Interface: Large LCD display with percent range graph and buttons/switches
Diagnostics: Basic diagnostics, Hot Backup™ capability, sensor drift alert, thermocouple degradation, min/max tracking
Calibration Options: Transmitter-sensor matching (Callendar-Van Dusen constants), custom trim
Certifications/Approvals: SIL 2/3 certified to IEC 61508 by an independent 3rd party, hazardous location, marine type, see full specs for complete list of certifications
Features
Industry-leading accuracy and reliability for best performance in critical control and safety applications

Transmitter-sensor matching improves measurement accuracy up to 75%

5-year long-term stability extends calibration intervals to reduce trips to the field

Rosemount X-well Technology measures temperature without a process penetration for reduced design, installation and maintenance costs

Dual compartment housing provides superior protection in harsh environments

Hot Backup™ capability and sensor drift alert utilizing dual sensors ensure measurement integrity

Thermocouple degradation diagnostic monitors thermocouple health to detect degradation before failure

Minimum and maximum temperature tracking allows monitoring of temperature extremes for easy troubleshooting

Transmitter supports multiple protocols for integration in many host environments across many industries

Device dashboards provide easy interface for simplified device configuration and diagnostic troubleshooting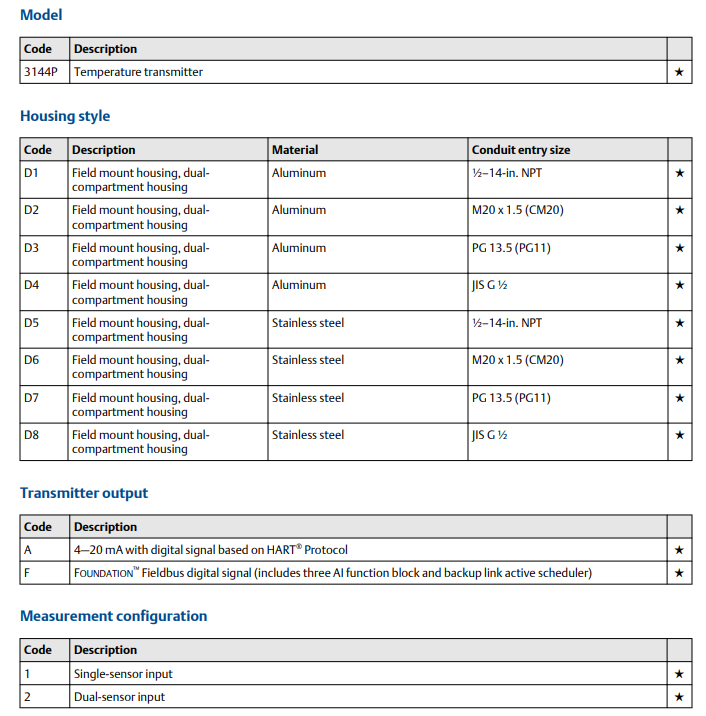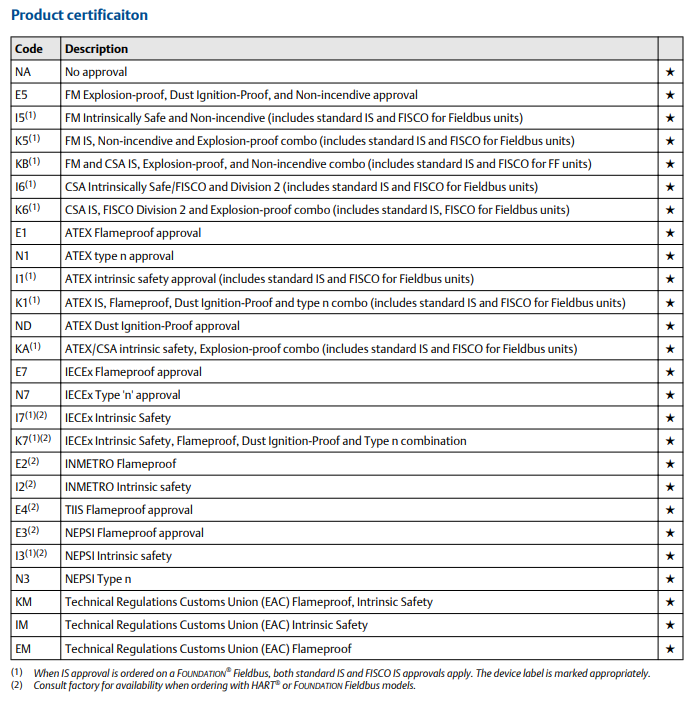 How to order Rosemount X-well Technology
Rosemount X-well™ Technology is for temperature monitoring applications and is not intended for control or safety applications. It is available in the Rosemount 3144P Transmitter in a factory assembled direct mount configuration with a Rosemount 0085 Pipe Clamp Sensor. It cannot be used in a remote mount configuration. Rosemount X-well Technology will only work as specified with factory supplied and assembled Rosemount 0085 Sensor silver tipped single element sensor with an 80 mm extension length. It will not work as specified if used with other sensors.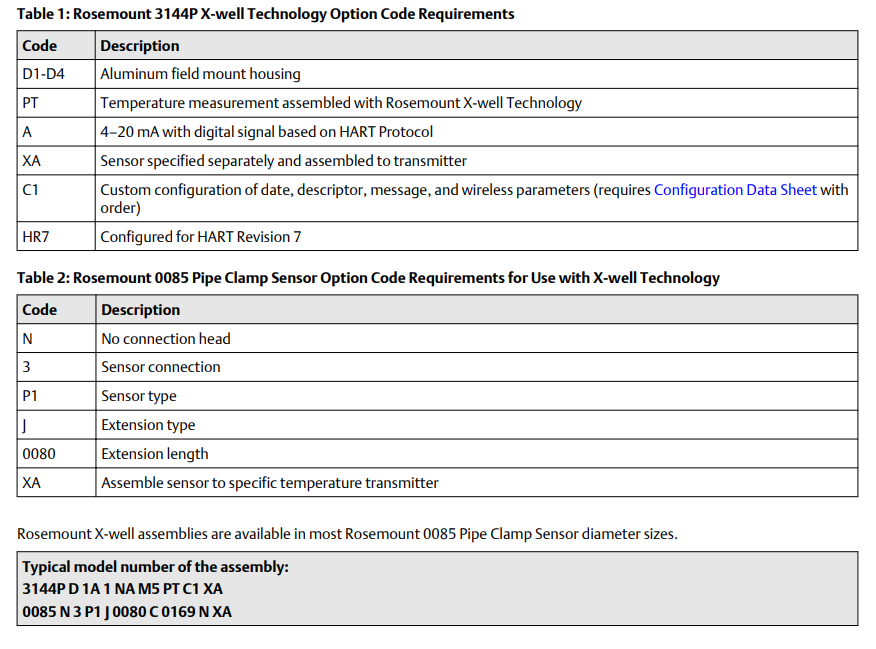 Model code for example:
3144PD2A1I1M5Q4
3144PD6A1K1M5C4Q4
3144PD2A1I1B4M5F5Q4
3144PD1A1E5B4M5
3144PD2A111B4M5T104
3144PD1A1E5M5T1Q4
3144PD1A1NAB4M5T1C404
3144PD2A1NAB5M5Q4QT
3144PD2AI1B5M5T1Q4
3144PD6A1I1B4M5Q4
3144PD2A1I1B4F5Q4
3144PD2A2I1B4M5Q4T1
3144PD6A1I1M5G1Q4
3144PD6A1I1M5G1Q4QT
3144PD1A1K6B4M5
3144PD2A1I1B4M5F5Q4
3144PD6A1K1M5C4Q4
3144PD2A1I1M5Q4
3144PD1A1NAB4Q4
3144PD6A1E1M5Q4QT
3144PD1A1NAM5
3144PD2F2I1B4Q4
3144PD1A1E1F5
3144PD1A1NAM5T1Q4
3144PD2A1E7B4M5Q4QT
3144PD2A1E5B4M5Q4QT
3144PPD1A1E5M5C1A1HR7
3144PPD2A1E5M5C4Q4
3144PPD2A1KAB4M5
3144PPD1A1E7B5M5Q4
3144PPD1A1E5B5M5T1
3144PPD2A1E1DA1B4M5C4Q4
3144PPD2A1K1B5M5Q4
3144PD1A1E5B5M5T1Q4
3144PD2A2K5M5U1
3144PD2A1I1B5M5T1Q4
3144PD1A1E1B5M5T1Q4
3144PD1A1E5B4M5Q4WR3
3144PD2A1E7M5Q4XA
3144PDIA1E5B4M5Q4
3144PD2A1I1B4M5F5Q4
3144PD1A1E5M5T1Q4XA
3144PD1A1K6M5F5Q4XA
3144PD5A1E1B4M5F5Q4
3144PD1A1E1B4M5F5Q4
We are professional in Industrial Automation & Electrical Distribution instruments, our product mainly including: Pressure / Temperature Transmitters, Flowmeters, Analyzers, DCS Modules, PLC, Controller, Feild Communicators, Gas Detectors/ Sensors, Safety Barrier and Isolator, Multimeters, Calibrators, Recorder, Soft Starters, Inverters, Positioners, Valves, Circuit Breakers, Contactors, Switches, Power Supply, HMI, Terminal Block, Relay etc.Please feel free to inquiry us by E-mail: lily@hkxytech.com
Our main brands:
Yokogawa, Honeywell, Schneider, Emerson,Rosemount,Fisher,ABB, Siemens,MTL, Pepperl+fuchs,Hirschmann, Phoenix Contact, Weidmuller, ASCO, Norgren, Danfoss, Cisco, IFM, Omron, GE, Rockwell(Allen Bradley), EATON, MOOG, Yaskawa,Festo, Fluke, Foxboro, PR electronics, etc.

We promise 100% original brand new with 1-year warranty.
If you are interested in our products, please feel free to contact us!
-----------------------------------------------------------
HONGKONG XIEYUAN TECH CO., LIMITED
Add: 7-A16,Caishen Commercial Plaza,Hankou Railway Station,Wuhan, China
Contact: Ms. Lily
Email: lily@hkxytech.com
WhatsApp/Skype: +86 13789949182