Product News
ASCO Solenoid Valve WSNF8327B202 , Solenoid Valve 3/2 Series 327

December 10, 2021
ASCO™ Series 327 Solenoid Valves
The ASCO Series 327 is a line of high-flow piloting valves requiring zero minimum operating pressure. Its balanced poppet construction permits high flows at minimum power levels, making it ideal for power plants, refineries, and chemical processing facilities. The valve's PTFE rider rings and graphite-filled seals reduce friction and eliminate sticking to provide exceptional service life.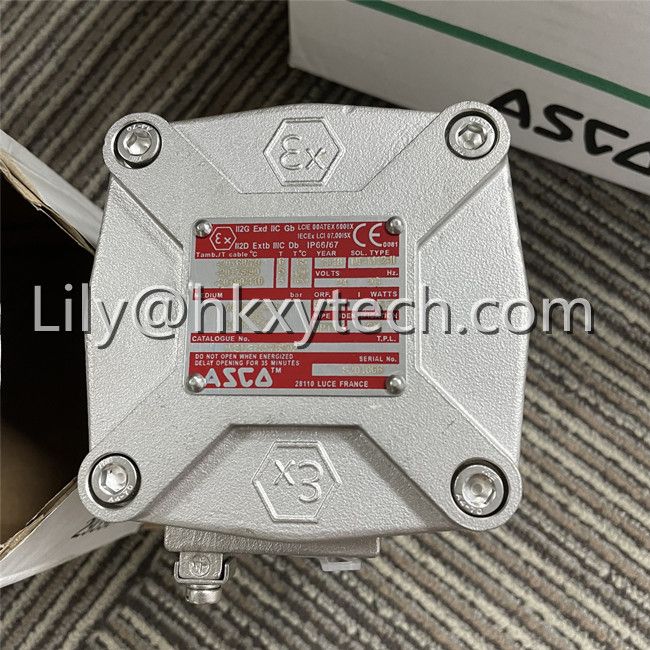 Specifications
Valve ActuationManual Reset, Solenoid - Direct Acting
Body MaterialBrass, Stainless Steel
MediaAir, Inert Gas, Light Oil, Water
Pipe / Port Size1/4 "
Port TypeNPTF
Function3 way - 3/2 Universal
FlowFrom 0.1 Cv to 0.5 Cv, From 0.5 Cv to 1.0 Cv, From .2 to .43 Kv, From .43 to .86 Kv
Voltage125 DC Battery Charging, 110 AC, 12 DC, 120 AC, 120 DC, 208 AC, 24 AC, 24 DC, 240 DC, 250 DC Battery Charging, 48 DC, 480 AC, 6 DC | 50, 50/60, 60
Operating EnvironmentHazardous, Indoor, Outdoor
Standards / RegulationsCSA, Type 1, Type 2, Type 3, Type 3S, Type 4X, Type 6, Type 6P, Type 7, Type 9, UL
Features
Low-power models available for applications with limited power availability
316 stainless steel construction available for highly corrosive atmospheres
Tamper-,proof no-voltage release manual reset provides added safety
Also available in NAMUR direct-mount and manual-reset constructions
Model code for example:
EF8327G041DC24/DCD
EV8327G042DC24/DCD
8327G041DC110/DCD
8327G041DC12/DCD
8327G041DC120/DCD
8327G041DC24/DCD
8327G041DC240/DCD
8327G041DC48/DCD
8327G041DC6/DCD
8327G042DC12/DCD
WSNF8327B002
WSNF8327B202
WSNF8327B102
WSNF8327B302
WSNF8327A650
WSNF8327A610
WSNF8327A608
WSNF8327B012
WSNF8327B212
WSNF8327B112
WSNF8327B312
WSNF8327A646
WSNF8327A606
WSNF8327B292
We are professional in Industrial Automation & Electrical Distribution instruments, our product mainly including: Pressure / Temperature Transmitters, Flowmeters, Analyzers, DCS Modules, PLC, Controller, Feild Communicators, Gas Detectors/ Sensors, Safety Barrier and Isolator, Multimeters, Calibrators, Recorder, Soft Starters, Inverters, Positioners, Valves, Circuit Breakers, Contactors, Switches, Power Supply, HMI, Terminal Block, Relay etc.Please feel free to inquiry us by E-mail: lily@hkxytech.com
Our main brands:
Yokogawa, Honeywell, Schneider, Emerson, Rosemount, Fisher, ABB,Siemens, MTL,Pepperl+fuchs, Hirschmann, Phoenix Contact, Weidmuller, ASCO, Norgren, Danfoss, Cisco, MOXA, IFM, Omron, GE, Rockwell(Allen Bradley), EATON, MOOG, Yaskawa, Festo, Fluke, Foxboro, PR electronics, etc.
We promise 100% original brand new with 1-year warranty.
If you are interested in our products, please feel free to contact us!
-----------------------------------------------------------
HONGKONG XIEYUAN TECH CO., LIMITED
Add: 7-A16,Caishen Commercial Plaza,Hankou Railway Station,Wuhan, China
Contact: Ms. Lily
Email: lily@hkxytech.com
WhatsApp/Skype: +86 13789949182